World's longest calligraphic mural Makkah
World's longest calligraphic mural Makkah: The Grand Mosque Road in Makkah now features the longest calligraphic painting in the world, the most recent addition to the holy city's aesthetic appeal. The 75-metre mural, created by the artist Amal Felemban, is one of a number of sculptures and installations that already beautify Makkah as part of a programme conducted by the local government to improve its aesthetic appeal and show off Saudi heritage and culture to pilgrims.
Buy Prime Test Series for all Banking, SSC, Insurance & other exams
World's longest calligraphic mural Makkah: About
The Makkah Municipality holds competitions for creating murals and writing Arabic calligraphy, which it claims as one of the most important literary and artistic forms connected to the Holy Quran.
The mural exhibits a beauty that conveys the history, thoughts, and cultural heritage of humanity over the millennia.
The murals, however, are among the documentary works that deal with the fragrant and originality of the past, discuss the present in all its manifestations, and do not forget to mention the future. They convey an aesthetic message that attracts the attention of people with good taste.
The Department of Visual Arts at Umm Al-Qura University has a team working to enhance the city's scenery.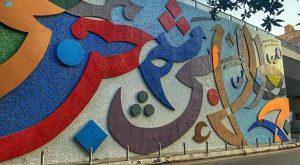 Arabic calligraphy, which the Makkah Municipality considers as one of the most significant written and visual arts associated with the Holy Quran, is also the subject of competitions.