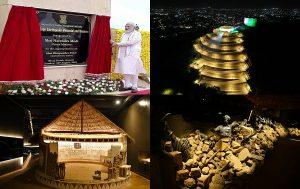 Prime Minister Narendra Modi has dedicated India's first earthquake memorial, named Smruti Van at Bhuj in Gujarat. Smruti Van is a unique memorial carrying the names of more than 12 thousand people who lost their lives in the devastating earthquake that struck here in January 2001. The earthquake simulator will provide real like the experience of earthquake tremors to visitors. Gujarat Chief Minister Bhupendra Patel and State BJP President C. R. Patil was present on the occasion.
Bank Maha Pack includes Live Batches, Test Series, Video Lectures & eBooks
Key points about Smruti Van:
The grand structure, which is the first such memorial in the country according to a Gujarat government official, is spread over 470 acres on Bhujio Hill near Bhuj town. It celebrates the spirit of resilience in the wake of the death of nearly 13,000 people during the earthquake on January 26, 2001, which had its epicentre in Bhuj.
The memorial carries names of the people who lost their lives during the earthquake. It also has a state-of-the-art Smruti Van Earthquake Museum.
About the Smriti Van Earthquake Museum:
The museum showcases Gujarat's topography, rebuilding initiatives and success stories after the 2001 earthquake, and informs about different kinds of disasters and future readiness for any type of disaster. It also has a block to relive the experience of an earthquake with the help of a 5D simulator and another block for people to pay homage to the lost souls.
Many people from the Kutch district, especially from Bhuj, were among those killed in the earthquake, which had its epicentre near Chobari village of Bhachau taluka, about 20 km from Bhuj town.
One of the key attractions of this project is a special theatre where visitors can experience an earthquake through vibration and sound effects.