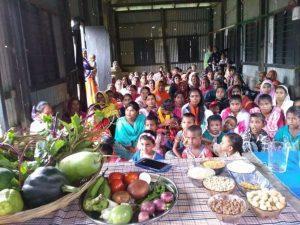 The Central Government is implementing the flagship programme Poshan Abhiyan for improving the nutritional status of Indian citizens. This programme helps children, adolescents, pregnant women, and lactating mothers by leveraging technology.
The importance of being given to the programme is evident from the fact that as many as 14 Central Departments and all the State Governments are being involved in the programme. Tamil Nadu tops the list of the states in terms of the number of participants in the programme. The Integrated Child Development Scheme has been in force for long in the southern state that has got rejuvenated with the Centre's Poshan Abhiyaan mission.
The programme is revitalizing India by reaching out to the children and mothers across the nation.
Most Important Takeaways for Upcoming Competitive Exams:
Poshan Abhiyan is a government mission to ensure the nutrition of children, women, and pregnant mothers in impoverished areas.
Banwarilal Purohit is the present governor and Edappadi K Palanisamy is Chief Minister of Tamil Nadu.