Bangladesh and India Launch Trade Transactions in Rupees
Bangladesh and India have initiated trade transactions in rupees, aiming to reduce reliance on the US dollar and strengthen regional currency and trade.
This bilateral trade agreement marks a significant milestone for Bangladesh, moving beyond the US dollar for trade settlement with a foreign country.
Trade Settlement in Rupees: A Historic Step: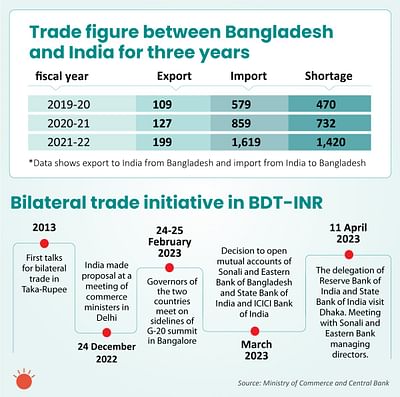 Bangladesh Bank Governor Abdur Rouf Talukder describes the launch of trade settlement in rupees as the "first step in a great journey."
The move signifies the growth and economic cooperation between India and Bangladesh, fostering mutual benefits.
Reduced Transaction Costs and Dual Currency Card:
The introduction of the Taka-Rupee dual currency card, expected to be launched from September, will further facilitate trade between the two countries.
The dual currency card will help reduce transaction costs during trade with India, enhancing convenience for traders and strengthening economic ties.
Formalizing Trade in Rupees:
While frontier trading has existed between Bangladesh and India in certain areas called "border huts," formal trade will now be conducted in rupees.
Initially, the trade will be transacted in rupees, with a gradual shift towards using the Bangladeshi currency, Taka, as the trade gap decreases.
Nostro Accounts and Market-Based Exchange Rate:
Banks in both Bangladesh and India have been granted permission to open nostro accounts for foreign currency transactions.
The exchange rate will be determined based on market demand, ensuring transparency and efficiency in the trade process.
Trade Figures and Economic Outlook:
According to official data, Bangladesh's exports to India amount to USD 2 billion, while imports from India are valued at USD 13.69 billion.
Some economists express skepticism about the immediate benefits for Bangladesh due to the trade deficit. However, Governor Talukder emphasizes the broader impact on exporters and importers in both countries.
Find More International News Here