Bank credit growth slowed down to 16.8% in the October-December 2022 period from a year earlier, RBI data showed. This compares with 17.2% seen in the previous quarter, according to the quarterly statistics on bank deposits and credit, released by the Reserve Bank of India. A year earlier, credit growth was 8.4%.
Buy Prime Test Series for all Banking, SSC, Insurance & other exams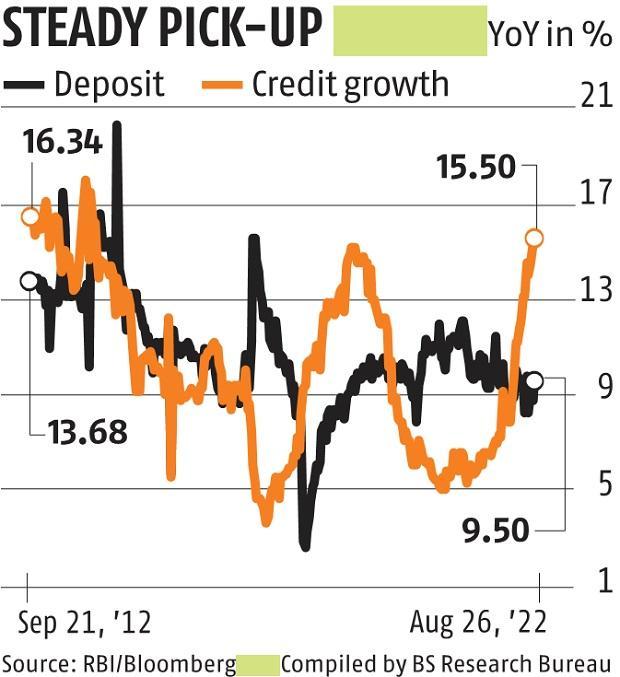 Bank branches which led the Credit Growth:
Growth in credit was led by bank branches in metropolitan centres, which account for nearly 60% of the total credit by scheduled commercial banks (SCBs), the RBI said, adding that these branches recorded 17.2% growth in lending.
Urban, semi-urban and rural centres also recorded double digit credit growth, the central bank said.
Credit Portfolios of Public sector banks(PSBs):
Public sector banks increased their credit portfolio by 15.7% during the calendar year 2022 compared with 4.7% in 2021, the RBI said. Corresponding growth for private sector banks, however, remained higher at 19.1% (13.1% a year ago).
About The Deposits in the Banks:
Aggregate deposits increased by 10.3% in December 2022 compared with 9.6% a year ago, led by 13.2% growth in term deposits. Current and savings deposits recorded moderate growth of 4.6% and 7.3%, respectively.
Deposit mobilisation by public sector banks improved to 8.8% growth in December 2022 (6.9% a year ago) though it remained lower than 13.2% growth in deposits with private sector banks.
About The Credit-Deposit (C-D) ratio:
The all-India credit-deposit (C-D) ratio increased further to 75.9% in December 2022 compared with 74.8% in the previous quarter and 71.6% in December 2021. It remained above 100% for Andhra Pradesh, Maharashtra, Tamil Nadu, and Telangana.
Risks for Further Credit Growth:
As per the Economic Survey 2022-23, if inflation declines in the upcoming fiscal and if real cost of credit does not rise, then credit growth is likely to be brisk in FY24.
The Economic Survey 2022-23 and The Credit Growth:
The increase in the overall bank credit has also been influenced by the shift in borrower's funding choices from volatile bond markets, where yields have increased, and external commercial borrowings, where interest and hedging costs have increased, towards banks, the Economic Survey said in January.
Growth in bank credit has kept pace with industrial growth, with a sequential surge evident since January 2022. While a large share of bank credit continues to be assigned to large industries, credit to micro, small and medium enterprises (MSMEs) has also seen a significant increase in part assisted by the introduction of the Emergency Credit Line Guarantee Scheme (ECLGS), which supports around 1.2 crore businesses of which 95% are MSMEs, the Economic Survey said.
"The impact of ECLGS on increasing the growth of credit to MSME was felt most during the pandemic impacted years of 2020 and 2021. It continued in 2022 as the scheme was extended to March 2023. Furthermore, growth in credit to MSME was buttressed by rebounding consumption levels, particularly in the services sector. Consequently, the share of MSMEs in gross credit offtake to the industry rose from 17.7 per cent in January 2020 to 23.7 per cent in November 2022," it added.
Also Read: RBI imposes restrictions on 5 co-operative banks
Find More News Related to Banking