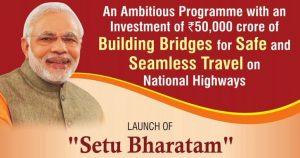 The Union Government of India is envisaging to replace all level crossings on National Highways by Over/under Bridges. The replacement of all the level crossings on National Highways by Road Over Bridges or Road Under Bridges will be executed under the Setu Bharatam scheme. GoI aims to ensure safe and smooth flow of traffic and to decrease the road fatalities by 50% by 2020 with the replacement of All level crossings on NH by Over/under Bridges. The whole replacement work will be executed by Road Transport and Highways Ministry.
About Setu Bharatam Scheme:
The Setu Bharatam Scheme was launched by the Indian Prime Minister Narendra Modi on 4th March in 2016. The scheme aims to build rail over-bridges or underpasses for safe and seamless travel on National Highways and to make all National Highways free of railway level crossings in order to prevent the frequent accidents and loss of lives at level crossings.
Important takeaways for all competitive exams:
Union Minister for Road Transport and Highways: Nitin Jairam Gadkari.