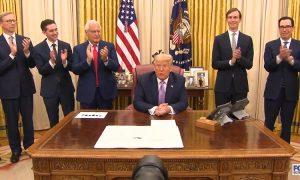 President of USA, Donald J. Trump, Prime Minister of Israel, Benjamin Netanyahu and Crown Prince of Abu Dhabi and Deputy Supreme Commander of the United Arab Emirates, Sheikh Mohammed Bin Zayed Nahyan have agreed to the full normalization of relations between Israel and the United Arab Emirates.
About peace agreement between UAE & Israel:
This historic diplomatic agreement will advance peace in the Middle East region and is a testament to the bold diplomacy and vision of the three leaders and the courage of the United Arab Emirates and Israel. All three countries face many common challenges and will mutually benefit from historic achievement.
Delegations from Israel and the United Arab Emirates will meet and sign bilateral agreements regarding investment, tourism, direct flights, security, telecommunications, technology, energy, healthcare, culture, the environment, the establishment of reciprocal embassies, and other areas of mutual benefit.
Opening direct ties between two of the Middle East's most dynamic societies and advanced economies will transform the region by spurring economic growth, enhancing technological innovation, and forging closer people-to-people relations.
The United Arab Emirates and Israel will immediately expand and accelerate cooperation regarding the treatment of and the development of a vaccine for the coronavirus. Working together, these efforts will help save Muslim, Jewish, and Christian lives throughout the region.
Israel and the United Arab Emirates will join with the United States to launch a Strategic Agenda for the Middle East to expand diplomatic, trade, and security cooperation.
The United States, Israel and the United Arab Emirates share a similar outlook regarding the threats and opportunities in the region, as well as a shared commitment to promoting stability through diplomatic engagement, increased economic integration, and closer security coordination.
As set forth in the Vision for Peace, all Muslims who come in peace may visit and pray at the Al Aqsa Mosque, and Jerusalem's other holy sites should remain open for peaceful worshippers of all faiths.