According to global research firm Statista, India has secured the third position worldwide in the number of financial technology (fintech) unicorns. The United States and the United Kingdom continue to dominate the field, holding the first and second positions, respectively, both in terms of quantity and overall value.
Top 10 Countries: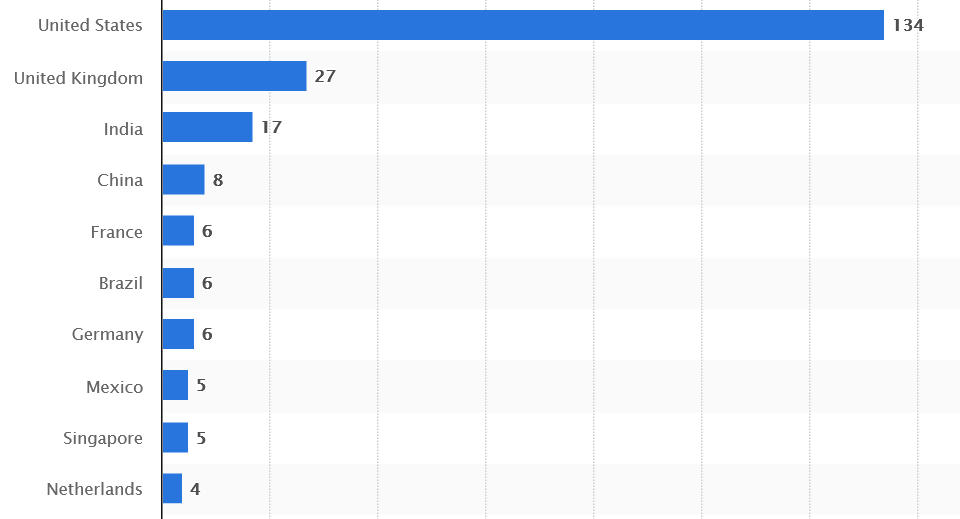 India's Rise to Third Place
In 2023, India has secured the third position in the global fintech landscape with 17 fintech unicorns. This significant achievement underscores the country's growing influence in the world of finance and technology. India's top profitable companies include Zerodha, Billdesk, Paytm, and others. Fintech giants like Paytm have exhibited impressive financial growth, with Paytm recording a 32 percent growth in revenue during the second quarter of fiscal year 2023-24.
The Global Fintech Unicorn Hierarchy
In the world of fintech, the United States and the United Kingdom maintain their supremacy in terms of both quantity and value. The US is home to an impressive 134 fintech unicorns, producing the highest value in the industry. Visa, Paypal, and Mastercard are among the dominant players, collectively contributing to a market capitalization of $1.2 trillion. Meanwhile, the UK ranks second with 27 fintech unicorns, making a substantial mark on the global fintech stage.
China's Fintech Powerhouse
China, despite having only eight fintech unicorns, has secured the fourth position. Giants like Tencent and Ant Financial have played a pivotal role in elevating China's overall financial market capitalization to $338.92 billion. These companies have introduced innovative financial solutions, contributing to China's impressive fintech market presence.
The Silicon Valley Advantage
The Silicon Valley remains a natural home for fintech innovation, given its historical success in producing some of the world's largest technology companies. Companies like Meta, Apple, Google, and Amazon have shaped the tech landscape. The presence of established venture capital firms like Sequoia Capital and Andreessen Horowitz further fuels fintech innovation, making the Silicon Valley a thriving hub for fintech startups and unicorns.
Notable Unicorns Worldwide
In the United Kingdom, unicorns such as Revolut, Blockchain.com, and Checkout.com have made significant impacts on the fintech ecosystem. Online banking startups like Monzo and Starling have also disrupted the traditional banking sector by offering digital-only services.
China's Mobile Payment Revolution
China's fintech scene is characterized by mobile payment revolution, with Alibaba's Alipay and Tencent's WeChat Pay leading the charge. These mobile wallets have redefined how people conduct everyday transactions and have achieved remarkable success in both the domestic and international markets.
Find More Ranks and Reports Here