India is set to experience a rapid aging of its population in the coming decades, with the elderly projected to comprise over 20% of the total population by the year 2050. This significant demographic shift is highlighted in the India Ageing Report 2023, jointly released by the International Institute for Population Sciences and the United Nations Population Fund. This report sheds light on various aspects of this aging trend, including the changing ratio of elderly to working-age individuals, gender disparities in life expectancy, and its implications for social and economic policies.
I. The Aging Trend: A Steady Rise
The report reveals that India's elderly population has been steadily increasing over the years, with a medium-to-high rate of growth since 1961.
While the pace of this increase was relatively slow until 2001, it is expected to accelerate significantly in the coming decades.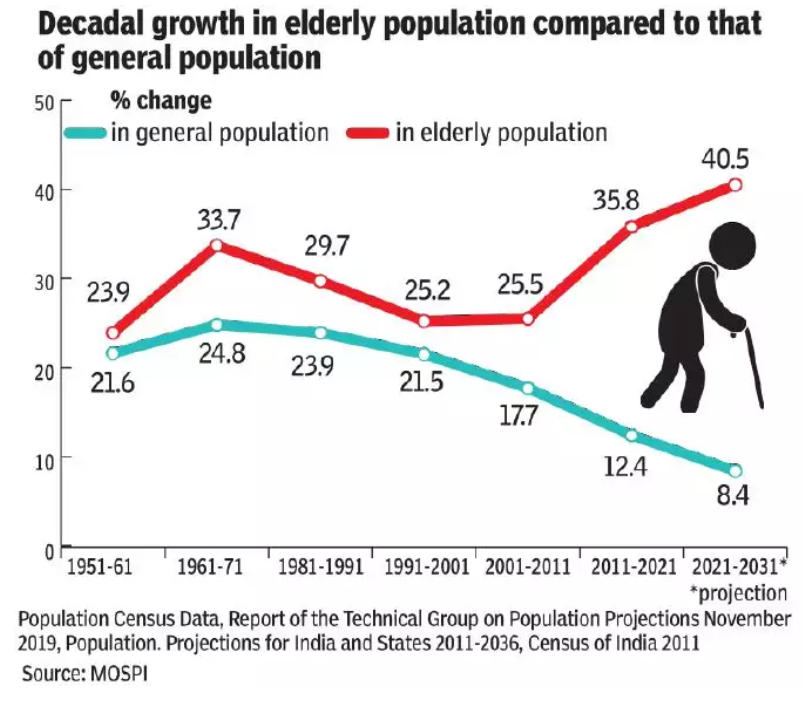 II. The Numbers: From Millions to Hundreds of Millions
As of July 1, 2022, India was home to 149 million individuals aged 60 and above, accounting for 10.5% of the country's total population.
By 2050, this proportion is projected to surge to 20.8%, with a staggering 347 million senior citizens in India.
Looking further ahead, the report anticipates that by the end of the century, the elderly could make up more than 36% of the population.
III. Gender Disparities: Longer Lives for Women
A noteworthy finding is the increasing disparity in life expectancy between men and women in India. Historically, there were 930 elderly women per 1,000 men in 1991.
However, this ratio has been evolving, and by 2031, the report predicts a significant shift, with 951 men for every 1,078 women.
Additionally, the report notes that women tend to outlive men across the nation, with variations among states. Kerala and Himachal Pradesh, for instance, exhibit a four-year difference in life expectancy favoring women.
IV. Life Expectancy Variations Across States
The report provides insights into regional disparities in life expectancy. In India, a 60-year-old man can expect to live another 18.3 years, while women can anticipate 19 years.
Notably, these figures can vary substantially from state to state, with states like Kerala and Himachal Pradesh showing a more significant life expectancy advantage for women.
V. Implications for Policy: Addressing Widowed Women
With the increasing life expectancy of women in India compared to men, the report underscores the likelihood of a substantial number of widowed women.
It emphasizes the need for focused attention on social and economic policies to support this demographic shift, highlighting the importance of gender-sensitive policies and programs.
Find More Ranks and Reports Here