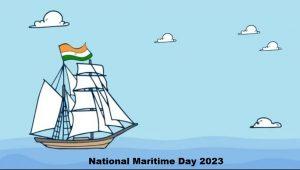 National Maritime Day 2023
In India, the National Maritime Week begins on March 30 and culminates in the celebration of National Maritime Day on April 5. This year marks the 60th anniversary of the event, which aims to recognize India's significant contribution to the maritime industry and its history as a seafaring nation. National Maritime Day plays a crucial role in promoting awareness about India's maritime heritage and current role in supporting the country's economy. The day is an opportunity to express gratitude to the sailors who work tirelessly at sea, often spending months away from their families, to ensure the smooth functioning of the industry.
Buy Prime Test Series for all Banking, SSC, Insurance & other exams
National Maritime Day 2023: Theme
Although the theme for this year's National Maritime Day in India has not yet been announced, the theme for National Maritime Week 2023 has been revealed as 'Amrit Kaal in Shipping'. The phrase translates to 'Golden Era in Shipping' in English and refers to the 25-year period from India's 75th to 100th year of independence. The theme emphasizes the potential for significant progress and development in the Indian maritime industry during this period, leading to a 'golden era' for the sector.
National Maritime Day: History
National Maritime Day in India has its roots in the country's rich maritime history, which dates back to ancient times. The Rig Vedas mention Indian ships and the country's trade with western Asia. The Gangaridai Empire, the Chola dynasty, and the Mauryan Empire were all powerful maritime civilizations in ancient India.
In modern times, National Maritime Day in India commemorates the maiden voyage of the first Indian steamship, the S.S. Loyalty, of the Scindia Steam Navigation Company Ltd. in 1919 from Mumbai to London. The Scindia dynasty of Gwalior owned the company, which was the second-oldest shipping company in India. The Ministry of Ports, Shipping and Waterways started this day in 1964 to commemorate the sailing of India's first commercial vessel, SS Loyalty.
India's maritime history includes many notable achievements, such as the discovery of a dry dock in Lothal, Gujarat, dating back to 2400 BC, which is believed to be the oldest in the world. The Marathas, led by Chatrapati Shivaji, also became a formidable maritime force, resisting British and Portuguese rule for over 40 years.
You may also read this: