Why in news?
Field Marshal Sam Manekshaw's Death Anniversary 2023 is in the news, commemorating 15 years since his passing. Manekshaw, India's first Field Marshal and celebrated military general, was known for his leadership and strategic brilliance. His notable achievements include leading the Indian Army to victory in the 1971 Indo-Pak War, which resulted in the creation of Bangladesh. He fought in five wars during his illustrious 40-year career and was honored with the Military Cross, Padma Bhushan, and Padma Vibhushan. Manekshaw's wit and quotes continue to inspire, and his legacy as a war hero lives on.
About Sam Manekshaw:
Field Marshal Sam Hormusji Framji Jamshedji Manekshaw, popularly known as Sam Bahadur, was India's first Field Marshal and a celebrated military general.
He was born on April 3, 1914, in Amritsar to a Parsi family. His father, Hormusji Manekshaw, was a doctor in the British Indian Army during World War I.
Despite initial resistance from his father, Manekshaw joined the Indian Military Academy (IMA) and excelled, securing the sixth rank in the entrance examination.
He fought in the Second World War as part of the Indian National Army's first course, called "The Pioneers."
Manekshaw married Siloo Bobde on April 22, 1939, in Bombay, and they had two daughters named Sherry and Maya.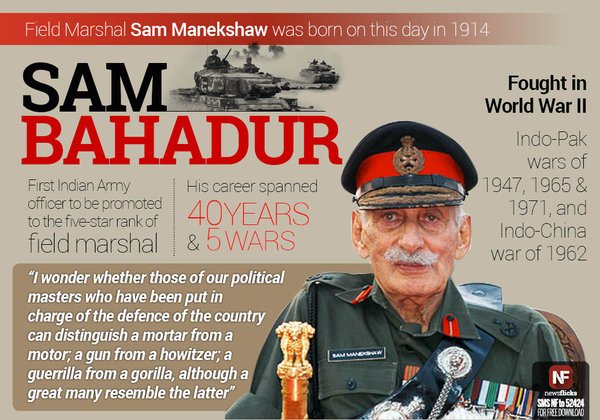 Key Achievements:
Field Marshal Sam Manekshaw fought in five wars throughout his 40-year military career:

World War II
1948 Kashmir War against Pakistan and Afghan tribals
1962 Indo-Sino War
1965 Indo-Pak War
1971 Indo-Pak War (where he achieved significant success)

Manekshaw led the Indian Army to a momentous victory in the 1971 Indo-Pak War, which led to the creation of Bangladesh.
He was the first Indian officer to command the Gorkhas after India gained independence.
Known for his courage and wit, Manekshaw survived numerous close calls, including serious bullet injuries during World War II.
He received the Military Cross for gallantry in 1942, the Padma Bhushan in 1968, and the Padma Vibhushan in 1972 for his exceptional service to the nation.
Quotes and Wit:
Field Marshal Manekshaw was renowned for his witty remarks. One of his famous quotes is, "If a man says he is not afraid of dying, he is either lying or he is Gorkha."
His sense of humor and quick wit made him a respected and beloved figure among the armed forces and the nation.
Legacy and Death:
Sam Manekshaw, also known as Sam Bahadur, passed away on June 27, 2008, at the age of 94 in Wellington, Tamil Nadu.
His death anniversary in 2023 marks 15 years since his demise, reminding the nation of his invaluable contributions as a military leader and war hero.