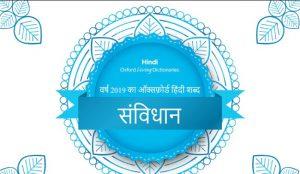 Oxford University Press (OUP) named "Samvidhaan" (Constitution) the Oxford Hindi Word of 2019. It received widespread attention in the year which was witness to the spirit of the Indian Constitution being embraced across segments of the society. The word was chosen as 2019 saw the values of democracy, secularism, justice, liberty, equality and fraternity being tested on the touchstone of the Constitution or "Samvidhaan".
"Samvidhaan" means a "body of fundamental principles or established precedents according to which a state or other organisation is acknowledged to be governed".
Important takeaways for all competitive exams:
The Oxford English Dictionary is the principal historical dictionary of the English language, published by Oxford University Press.

Headquarters: 

United Kingdom.
Find More Miscellaneous News Here