BAPS Swaminarayan Akshardham, the largest Hindu temple in the United States, celebrated its grand opening on Sunday, October 8, in Robbinsville, New Jersey. This architectural marvel is not only a testament to the vibrant Hindu community in the US but also a symbol of the enduring spirit of artistry, spirituality, and human dedication.
A Spiritual Landmark Outside India
The temple, set up in the picturesque city of Robbinsville, New Jersey, is a remarkable achievement. It stands as the largest Hindu temple outside India in the modern era. The grand opening was marked by a letter from Prime Minister Narendra Modi, recognizing the profound spiritual significance of this momentous occasion.
A Journey of Precious Materials
The construction of BAPS Swaminarayan Akshardham is a testament to human creativity and resolution. The temple's front is crafted from four distinct varieties of marble sourced from Italy and limestone from Bulgaria. These precious materials embarked on an extraordinary journey, covering over 8,000 miles worldwide to reach their final destination in New Jersey. Once on site, skilled artisans assembled these intricately carved pieces like a colossal jigsaw puzzle, culminating in the creation of this monumental Hindu temple.
Innovative Construction

In order to endure the harsh winters of New Jersey, the exterior of the temple was constructed using unconventional Bulgarian limestone. Inside, you'll find stones imported from various corners of the globe, such as Greece, Italy, and India. It also had significant involvement of women in managing the project, which is a rarity in the realm of temple construction.
The Work of Dedicated Artisans and Volunteers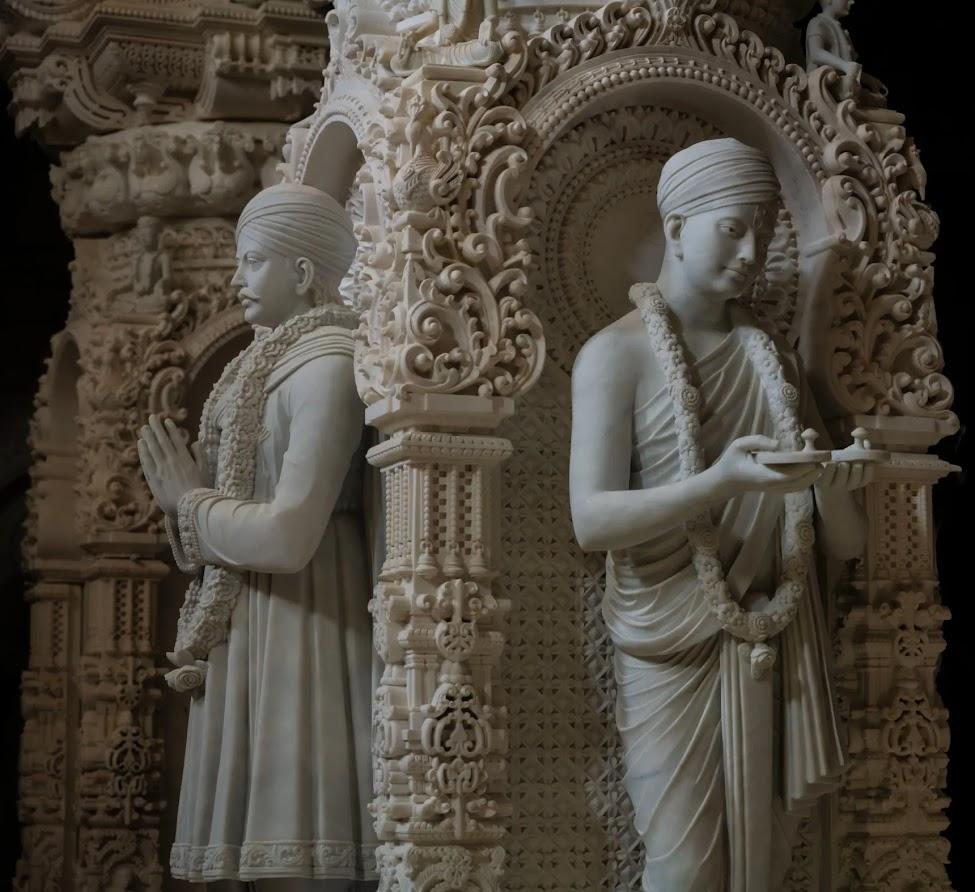 This architectural masterpiece sprawls across an expansive 126-acre area, a feat made possible by the relentless dedication of artisans and volunteers. These individuals invested approximately 4.7 million hours to meticulously hand-carve around two million cubic feet of stone. The temple walls are adorned with carvings of historical figures, including Martin Luther King Jr. and Abraham Lincoln, adding a unique touch of diversity and inclusivity to the temple's design.
A Collective Effort Spanning Over a Decade
The construction of Akshardham was made possible by over 12,500 volunteers from across the United States, dedicating more than 12 years, from 2011 to 2023, to bring it to life. The temple spans an impressive 255 feet in length, 345 feet in width, and 191 feet in height, covering an expansive 183 acres.
A Spiritual Oasis for All
The temple's inauguration was guided by BAPS spiritual leader Mahant Swami Maharaj, on October 8, with doors opening to visitors by October 18. In anticipation of its inauguration, the temple has already started attracting thousands of Hindu devotees and individuals from various faiths and beliefs. Situated approximately 60 miles south of Times Square in New York and 180 miles north of Washington, DC, it has become a significant spiritual destination.
Ancient Roots and Cultural Heritage
The design of Akshardham is deeply rooted in ancient Hindu scriptures and features elements from India's rich cultural heritage. The temple houses a remarkable collection of over 10,000 statues, complex carvings of Indian musical instruments, and various dance forms. Among modern-era Hindu temples, Akshardham is possibly the second largest, trailing only behind Cambodia's iconic Angkor Wat.
Architectural Marvels
The temple's distinctive design incorporates a central main shrine, 12 sub-shrines, nine shikhars (towering spire-like structures), and nine pyramidal shikhars. Notably, Akshardham boasts the largest elliptical dome in traditional stone architecture, designed to withstand the test of time for a thousand years. Within its premises, you'll find the Brahma Kund, a traditional Indian stepwell filled with water sourced from more than 300 bodies of water worldwide, including the sacred rivers of India and all 50 states of the US.
A Testament to Collective Effort
The construction of Akshardham has been a collective effort, with volunteers from across the United States receiving guidance from skilled artisans in India. This monumental endeavor has only been possible due to the efforts made by millions of volunteers and their precious time to reach this milestone. BAPS Swaminarayan Akshardham stands not only as a remarkable architectural achievement but also as a testament to the power of human dedication and the rich tapestry of Hindu culture and spirituality in the United States.
Find More International News Here