The Unified Payments Interface (UPI) in India has achieved a significant milestone by surpassing 10 billion monthly transactions in August. This achievement was confirmed by the National Payments Corporation of India (NPCI), the Reserve Bank's non-profit agency. UPI has been a key driver of digital payments in India, and its rapid growth is noteworthy.
Key Milestone Reached: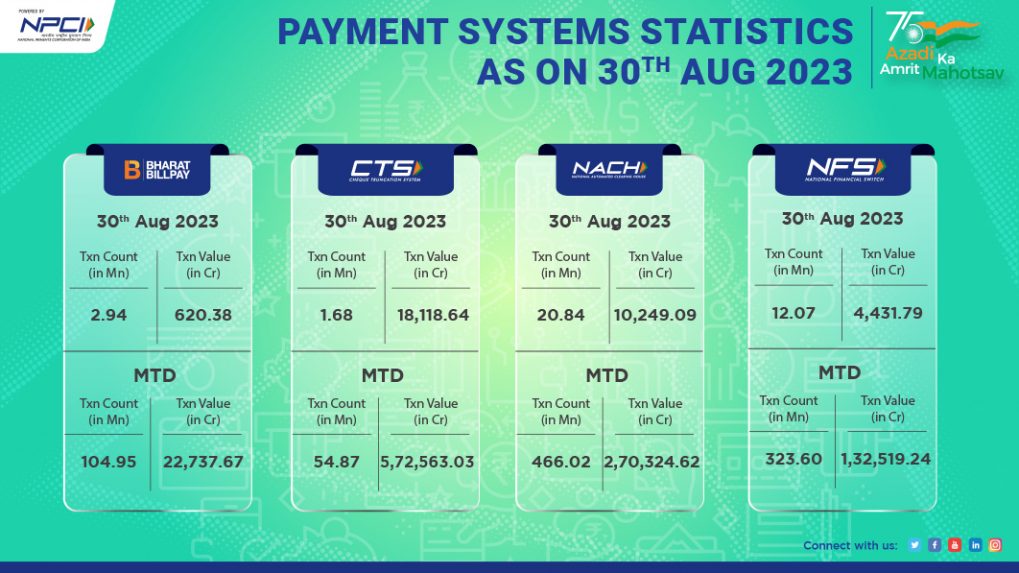 In August, UPI recorded an impressive milestone of 10 billion monthly transactions, as confirmed by NPCI. This signifies the increasing popularity and adoption of digital payments in India.
Growth Over Time:
UPI's growth trajectory has been remarkable, with monthly transactions exceeding 10.24 billion by the end of August. This represents a significant increase from the 6.58 billion transactions recorded in August of the previous year, marking a growth rate of over 50% year-on-year.
Historical Perspective:
UPI's journey began in October 2019 when it crossed 1 billion monthly transactions for the first time. In less than four years, it has grown fourfold, showcasing its rapid adoption and acceptance in the Indian payment landscape.
Room for Further Expansion:
Industry experts believe that there is still substantial potential for UPI transactions to grow. Peer to merchant (P2M) transactions on UPI are growing at an impressive pace, surpassing peer to peer (P2P) transactions in share. This trend suggests that P2M transactions will be a driving force behind UPI's future growth, potentially reaching 20 billion monthly transactions within the next 18-24 months.
Government Initiatives and Incentives:
The government has played a role in promoting digital payments, with the Ministry of Electronics and Information Technology (Meity) offering incentive schemes. These schemes have boosted the adoption of digital payment systems like Aadhaar Payment Bridge, Aadhaar-enabled Payment System (AePS), and UPI. In FY23, ₹2,600 crore has been allocated for these initiatives.
Transaction Distribution:
July data from NPCI reveals interesting trends in UPI transactions. Merchant transactions accounted for a significant share, representing 58% of all UPI transactions in terms of volume. However, user-to-user UPI transactions dominated in terms of total value, contributing nearly 75% of the total transaction value, amounting to ₹11.48 trillion.
Leading UPI Apps:
In the competitive landscape of UPI apps, PhonePe, a domestic fintech and e-commerce platform, led the market share in June, with over 47% of all UPI transactions occurring through this platform. Google Pay (35%) and Paytm (14%) secured the second and third positions, respectively, in terms of market share.
Find More News on Economy Here