Unified Payment Interface (UPI) transactions in India soared to unprecedented levels in May 2023, with a total transaction value of Rs 14.3 trillion and a volume of 9.41 billion. This represents a 2% increase in value and a 6% increase in volume compared to the previous month of April. The surge in UPI transactions comes at a time when the Indian government is actively promoting digital payments and aims to bring various tax collections under the digital payment ecosystem.
Record-Breaking UPI Transactions
In May, UPI transactions experienced remarkable growth, with a value of Rs 14.3 trillion and a volume of 9.41 billion. The transaction volume witnessed a staggering 58% increase compared to the same period in the previous financial year, while the transaction value rose by an impressive 37%. These numbers highlight the growing acceptance and adoption of UPI as a preferred mode of payment in India.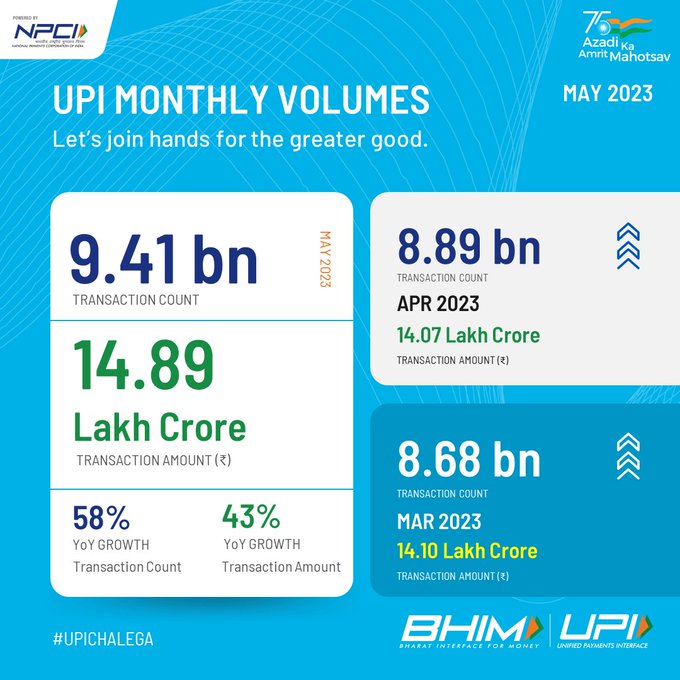 Buy Prime Test Series for all Banking, SSC, Insurance & other exams
Government's Digital Payment Drive
The surge in UPI transactions aligns with the government's ongoing efforts to promote digital payments across different sectors, including tax collection. By encouraging businesses and individuals to shift towards digital payment platforms, the government aims to enhance transparency, improve efficiency, and reduce the dependence on cash transactions.
IMPS Transactions Show Marginal Growth
Alongside UPI, Immediate Payment Service (IMPS) transactions also experienced a slight increase. IMPS transactions reached Rs 5.26 trillion in value, marking a 1% rise compared to April. In terms of volume, IMPS transactions saw a marginal increase to 500 million in May, up from 496 million in April. This represents a 3% growth in volume and a 16% growth in value compared to May 2022.
FASTag Transactions Witness Steady Growth
FASTag transactions, which facilitate cashless toll payments on Indian highways, exhibited steady growth as well. In May, the volume of FASTag transactions increased by 10%, reaching 335 million transactions, compared to 305 million in April. The value of FASTag transactions also rose by 6% to Rs 5,437 crore in May, compared to Rs 5,149 crore in April. These figures indicate a 17% growth in volume and a 24% growth in value compared to April 2022.
AePS Transactions Experience Decline
Aadhaar Enabled Payment System (AePS) transactions faced a slight decline in May. The volume of AePS transactions decreased by 2.35%, settling at 99.6 million, compared to 102 million in April. In terms of value, AePS transactions amounted to Rs 28,037 crore in May 2023, indicating a 5.4% decline from Rs 29,649 crore in April. These figures show a 9% decline in volume and an 8% decline in value compared to the previous year.
Also Read: Govt Approves Digital Communication Framework Between Banks and CEIB
Find More News Related to Banking