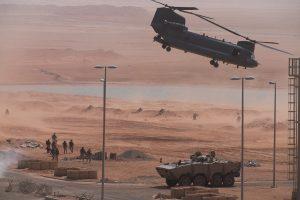 US Marines and UAE Emirati forces conducted the biennial exercise, named Native Fury at Abu Dhabi. The biennial exercise, called Native Fury, shows the close ties between American forces and the United Arab Emirates, a federation of seven sheikhdoms on the Arabian Peninsula home to Abu Dhabi.
Click Here To Get Test Series For All Banking Exams
The forces seize a sprawling model Middle Eastern city, a drill conducted amid tensions with Iran and despite the new coronavirus pandemic. It also comes after the U.S. killed Iran's most prominent general in a drone strike in January, and Tehran retaliated with a ballistic missile attack on American forces in Iraq. 
The exercise saw 4,000 U.S. troops from the Army, Marines and Navy position armoured vehicles and other equipment from Kuwait and the island of Diego Garcia in al-Hamra using a portable pier system. The barren desert, some 200 kilometres (125 miles) southwest of Abu Dhabi, is home to the UAE's vast oil reserves as well as its new Barakah nuclear power plant.
Important takeaways for all competitive exams:
President of UAE: Sheikh Khalifa bin Zayed Al Nahyan.
Capital of UAE: Abu Dhabi; Currency: United Arab Emirates dirham.