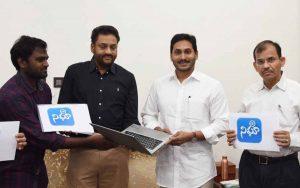 The Chief Minister of Andhra Pradesh YS Jagan Mohan Reddy has launched 'NIGHA' app to ensure 'clean and healthy' elections by curbing the use of money and alcohol in the upcoming local body elections.
The Panchayat Raj Department, in a bid to crackdown on electoral malpractices, has set up the NIGHA app to empower common citizens to lodge complaints seamlessly. Photos and videos of the distribution of money and alcohol and any other activity that violates the Model Code of Conduct (MCC) can be registered by this app. All the complaints registered by this app will automatically be routed to the Central Control room and the information will be shared with the concerned officials.
What is the Model Code of Conduct (MCC)?
Model Code of Conduct is a set of guidelines issued by the Election Commission for the conduct of political parties and candidates during elections mainly with respect to speeches, polling day, polling booths, portfolios, election manifestos, processions and general conduct.
Important takeaways for all competitive exams:
Chief Minister of Andhra Pradesh: Y. S. Jaganmohan Reddy.
Governor of Andhra Pradesh: Biswa Bhushan Harichandan.
Capital of Andhra Pradesh: Amaravati.
Kurnool Ultra Mega Solar Park is a solar park in Panyam Mandal of Kurnool district, Andhra Pradesh.