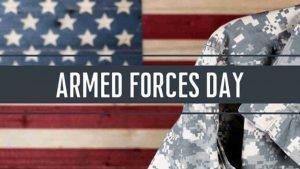 Armed Forces Day is observed on the third Saturday in May. In 2020, it falls on the 16th of May. This day is celebrated to pay tribute to the men and women who served the United States Armed Forces.
Click Here To Get Test Series For SBI PO 2020
This day plays an important role in educating society and provide knowledge to the public about the military and the role Armed Forces play in the community. Armed Forces Day is a joint celebration of all six branches of the U.S. military: Army, Air Force, United States Marine Corps (United States Marines), Coast Guard, US Navy, and therefore the newly created Space Force.
History of Armed Forces Day:
US President Harry S. Truman led the effort to determine Armed Forces Day. On 31 August 1949, Secretary of Defense Louis Johnson announced the creation of Armed Forces Day to exchange separate Army, Navy, Marine Corps, U.S. Coast Guard and Air Force Days. The Armed Forces Day was celebrated on 20 May 1950. Armed Forces Day parade was held in Bremerton, Washington. In 1961, John F. Kennedy declared Armed Forces Day a national holiday.
Important takeaways for all competitive exams:
Capital of USA: 

Washington, D.C.

President of USA:

Donald Trump.

The currency of USA:

United States dollar.