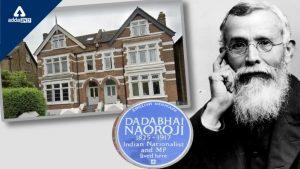 London home of Dadabhai Naoroji will get a 'Blue Plaque', an honour that is reserved for notable personalities who have lived and worked in London. Naoroji was the first Asian who was elected as a Member of Parliament in Britain. The Blue Plaque scheme, run by the English Heritage charity, honours the historic significance of particular buildings across London. Naoroji's plaque was unveiled to coincide with the 75th-anniversary celebrations of Indian Independence.
 Buy Prime Test Series for all Banking, SSC, Insurance & other exams
Naoroji often referred to as the "grand old man of India", is reported to have moved to Washington House, 72 Anerley Park, Penge, Bromley, at a time when his thoughts were turning increasingly towards full independence for India in 1897. That red-brick home now has a plaque which reads: "Dadabhai Naoroji 1825-1917 Indian Nationalist and MP lived here".
Other Indians who received the Blue Plaque:
The Blue Plaque was erected at the homes of Raja Ram Mohan Roy, Mahatma Gandhi, Sri Aurobindo, Jawaharlal Nehru, and BR Ambedkar among others. Gandhi's house was commemorated with the Blue Plaque in 1986. India's first prime minister Jawaharlal Nehru's home at 60 Elgin Crescent, Notting Hill received the Blue Plaque in 1989.
The history behind the Blue Plaque:
In 1863, MP William Ewart of the House of Commons introduced the idea of a commemorative plaque scheme. Three years later, the Society of Arts adopted the scheme.
In 1867, the organisation erected two plaques – one commemorated poet Lord Byron at his birthplace at 24 Holles Street at Cavendish Square and the other one honoured Napoleon III on King Street, Westminster.
In the beginning of the 20th Century, London County Council (LCC) took over the plaque scheme and introduced a more formal selection criterion. They named the scheme as the 'Indication of House of Historical Interest in London'.
The London County Council played around with the plaque's design by trying different colours and decorative schemes and by 1921 blue ceramic plaques had become standard. In 1938, an unnamed student from the Central School of Arts and Crafts suggested a modern and simplified blue plaque.
By 1986, English Heritage assumed charge of the scheme. Since then, English Heritage has erected over 360 plaques in more than 900 buildings in London.