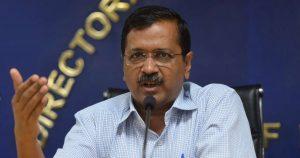 The Delhi Chief Minister Arvind Kejriwal has launched a 5T plan to contain the COVID-19 pandemic in the national capital. According to the Delhi governemt, the 5T plan consists of 5 pillars namely: testing, tracing, treatment, teamwork and tracking.
Click Here To Get Test Series For SBI PO 2020
About the 5Ts:
1. First "T" of the 5T plan stands for "Testing": Under this "T", the Delhi government will conduct one lakh rapid tests in hotspot areas like Dilshad Garden and Nizamuddin to contain the spread of the new coronavirus.
2. Second "T" of the 5T plan stands for "Tracing": Testing process is followed by another key step i.e. tracing under which people are identified who have come in contact with a positive patient and are asked to self-quarantine.
3. Third "T" of the 5T plan stands for "Treatment": After tracing, there comes the next step i.e. Treatment under which 2,950 beds have been reserved for coronavirus patients and 12,000 hotel rooms will be taken over by the Delhi government. Under this step, serious patients and elderly will be kept in hospitals while those patients with milder symptoms will be kept in hotels and dharamshalas.
4. Fourth "T" of the 5T plan stands for "Teamwork": In order to contain the spread of novel coronavirus, role of "teamwork" is very important.
5. Fifth "T" of the 5T plan stands for "Tracking & Monitoring": The developments and the actions taken to stop the spread of the Covid-19 will actively tracked by the the Delhi government.
Find More Miscellaneous News Here