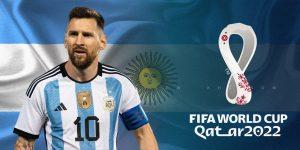 FIFA World Cup 2022:
FIFA World Cup 2022: Messi's Argentina clinched their 3rd World Cup trophy from six final appearances in history, seeing off France 4–2 on penalties (3–3 after extra time) to win the biggest prize in men's football at the  at Lusail Stadium in Lusail, Qatar. It had won two in 1978 and 1986 under Diego Maradona. Lionel Messi had come close to winning in 2014 but La Albiceleste lost the final 0-1 to Germany. The only similarity from Messi's 2014 campaign in Qatar was his Golden Ball award for Player of the Tournament award. He became the first player to win two World Cup Golden Balls.
FIFA World Cup Winners List, Argentina Wins FIFA World Cup 2022 Final
Notably: The 22nd edition of the World Cup just ended and for another 4 years for the next World Cup. Also, The 2026 World Cup will be held across three different countries, the United States, Canada and Mexico.
2022 FIFA World Cup Awards:
Top 4 team Rankings: Argentina (Winner), France (2nd), Croatia (3rd) and Morocco (4th)
Golden Boot Award: Kylian Mbappe (France); (8 Goals)
Golden Ball Award: Lionel Messi (Argentina); (7 goals and registering 3 assists)
Golden Glove Award: Emiliano Martinez (Argentina)
FIFA Young Player Award: Enzo Fernandez 
FIFA Fair Play Award: England
Silver Boot Award: Lionel Messi
Bronze Boot Award: Olivier Giroud (France)
Silver Ball Award: Kylian Mbappe
Bronze Ball Award: Luka Modric (Croatia)
FIFA World Cup: List of all previous winners
1930: URUGUAY
1934: ITALY
1938: ITALY
1950: URUGUAY
1954: GERMANY
1958: BRAZIL
1962: BRAZIL
1966: ENGLAND
1970: BRAZIL
1974: GERMANY
1978: ARGENTINA
1982: ITALY
1986: ARGENTINA
1990: GERMANY
1994: BRAZIL
1998: FRANCE
2002: BRAZIL
2006: ITALY
2010: SPAIN
2014: GERMANY
2018: FRANCE
FIFA World Cup 2022 Messi Won Golden Ball, Golden Ball Award 2022 and Winners
FIFA World Cup: List of previous Golden Ball Winner
2018: Luka Modric (Croatia)
2014: Lionel Messi (Argentina)
2010: Diego Forlán (Uruguay)
2006: Zinedine Zidane (France)
2002: Oliver Kahn (Germany)
1998: Ronaldo (Brazil)
1994: Romário (Brazil)
1990: Salvatore Schillaci (Italy)
1986: Diego Maradona (Argentina)
1982: Paolo Rossi (Italy)
1978: Mario Kempes (Argentina)
1974: Johan Cruyff (Netherlands)
1970: Pelé (Brazil)
1966: Bobby Charlton (England)
1962: Garrincha (Brazil)
1958: Didi (Brazil)
1954: Ferenc Puskás (Hungary)
1950: Zizinho (Brazil)
1938: Leônidas (Brazil)
1934: Giuseppe Meazza (Italy)
1930: José Nasazzi (Uruguay)
FIFA World Cup 2022 Golden Boot, Know Golden Boot 2022 Winners
FIFA World Cup: List Of previous Golden Boot Winner
2018: Harry Kane- England (6 goals)
2014: James Rodriguez- Colombia (6 goals)
2010: Thomas Muller- Germany(5 goals)
2006: Miroslav Klose- Germany (5 goals)
2002: Ronaldo- Brazil (8 goals)
1998: Davor Suker- Croatia (6 goals)
1994: Oleg Salenko- Russia (6 goals)
1990: Salvatore Schillaci- Italy (6 goals)
1986: Gary Lineker- England (6 goals)
1982: Paolo Rossi- Italy (6 goals)
1978: Mario Kempes- Argentina (6 goals)
1974: Grzegorz Lato- Poland (7 goals)
1970: Gerd Muller- Germany (10 goals)
1966: Eusebio- Portugal (9 goals)
1962: Florian Albert- Hungary (4 goals)
1958: Just Fontaine- France (13 goals)
1954: Sandor Kocsis- Hungary (11 goals)
1950: Ademir- Brazil (8 goals)
1938: Leonidas- Brazil (8 goals)
1934: Oldrich Nejedly- Czechoslovakia (5 goals)
1930: Guillermo Stabile- Argentina (8 goals)