The Siachen Glacier, known as the world's highest battlefield, has witnessed a groundbreaking development with the installation of a mobile tower. The Fire and Fury Corps of the Indian Army, in collaboration with Bharat Sanchar Nigam Limited (BSNL), achieved this remarkable feat, bringing enhanced mobile communication to soldiers deployed at elevations exceeding 15,500 feet. Union Minister Devusinh Chauhan shared the noteworthy achievement on the social media platform 'X'.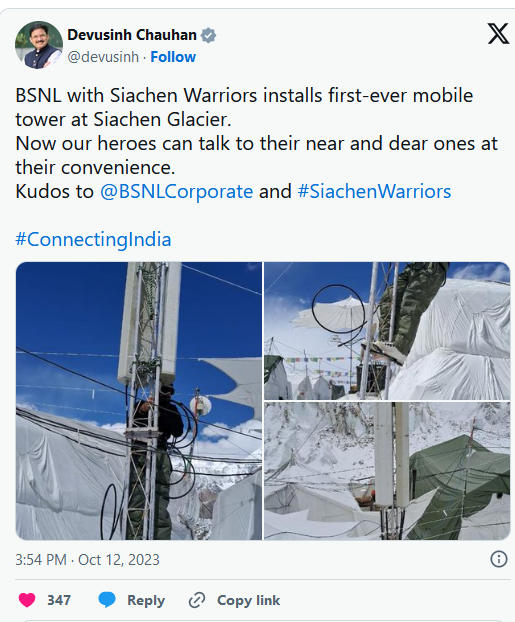 The Historic Installation
The "Siachen Warriors" in partnership with BSNL erected the first-ever BSNL Base Transceiver Station (BTS) at forward posts in the Siachen Glacier region. This strategic installation promises to bridge the communication gap for the soldiers stationed in one of the harshest terrains on Earth. The aim is to enhance the well-being of the courageous soldiers who protect the nation in this perilous setting.
A Lifeline for Soldiers
The installation of a mobile tower at Siachen Glacier is a monumental development that can't be overstated. The soldiers stationed at this extreme high-altitude battleground face incredibly harsh conditions and isolation due to its remote location. The extreme cold and isolation have made it nearly impossible for these soldiers to stay connected with their loved ones back home. The presence of the mobile tower now changes the game, providing a much-needed communication channel for the brave souls who serve in this unforgiving terrain.
A Boost for Soldier Morale
The installation of the mobile tower is not just about convenience; it's also a significant morale booster. In an environment as challenging as Siachen, where soldiers endure extreme cold and hostile conditions, the ability to make phone calls and send messages to their families can provide immeasurable emotional support. It helps the soldiers maintain vital connections with their loved ones, offering a source of motivation and relief from the extreme stress associated with their service.
The Technical Challenges
The Siachen Glacier's unique conditions posed immense technical challenges for the installation of the mobile tower. Not only is it the highest battleground in the world, but it's also covered in ice and snow throughout the year. The extreme cold, high winds, and difficult accessibility created a hostile environment for the installation team. BSNL's engineers had to design and build equipment capable of withstanding these harsh conditions to ensure uninterrupted communication for the soldiers.
A Testament to Indian Army's Dedication and Collaborative Spirit
The establishment of the first-ever mobile tower at Siachen Glacier is a testament to the unwavering dedication of the Indian Army and the collaborative spirit between the military and BSNL. This achievement will undoubtedly enhance the quality of life for the brave soldiers who serve at this high-altitude battlefield, allowing them to stay connected with their families and loved ones.