India and Australia signed a Framework Mechanism for Mutual Recognition of Qualifications that will help ease the mobility of students and professionals between the two countries. While the two countries will recognise the degrees, professional registrations of engineering, medicine and law pass-outs will remain outside the framework's ambit.
More About The India-Australia Agreement:
The agreement was signed following a bilateral meeting here between Union Education Minister Dharmendra Pradhan and his Australian counterpart Jason Clare, who is on a five-day visit to India.
A delegation led by Clare also visited the University Grants Commission (UGC) here, along with a 30-member team consisting of vice-chancellors of more than 10 Australian Universities and other higher education officials.
The Extent of This Cooperation:
At least 11 institutional-level memorandums were also exchanged between India and Australia's university sectors, which will promote research and academic collaborations between the two countries in several key sectors.
The Australian government will also be contributing 1.89 million dollars for running skill development programmes in India in the area of agriculture which is a critical sector for the country.
Australia and India: knowledge a key aspect of the bilateral relationship: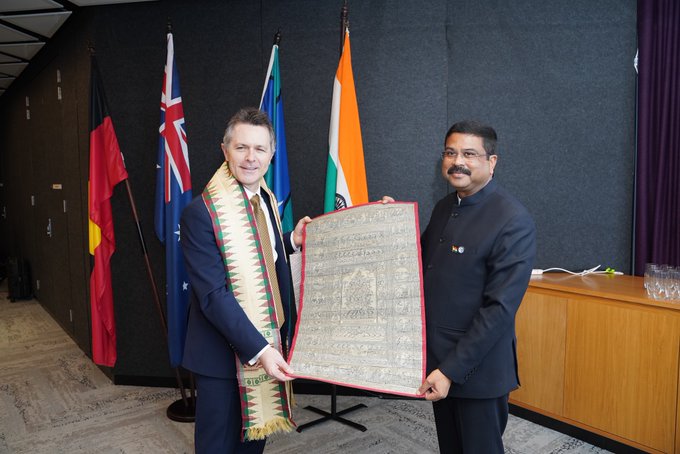 "Australia and India are aligned to making the knowledge pillar a key aspect of the bilateral relationship. Both the countries agreed to create new frameworks of partnership to take our bilateral relations to new heights," Pradhan said at a joint press conference.
"The developments today will create more opportunities for two-way mobility of students and professionals for the purpose of education and employment, and pave the way for making education the biggest enabler in taking India-Australia bilateral relationship to greater heights and realise shared aspirations," he added.
About Australia India Education Council (AIEC):
The AIEC is a bi-national body chaired by the Education Ministers of India and Australia to expand collaboration in education, training and research.
The AIEC is a 'working council' of representatives from government, academia and industry. 
The AIEC provides a forum for members to collaborate with Ministers in deciding major bilateral education priorities for the coming year.
The inaugural meeting of the AIEC was held in New Delhi in August 2011.
Australian Education International (AEI) is the international arm of the Australian Government Department of Industry, Innovation, Science, Research and Tertiary Education.
Australia-India Strategic Knowledge Partnership: Australia third most popular education destination:
Following the United States and the United Kingdom, Australia is the third most popular education destination for international students.
Over 52,000 Indian students are now enrolled in educational programmes in Australia.
The top programmes that draw students from around the world are computer science, engineering, business management, social sciences, mathematics, and health professions.
Around 66,000 Indian students have applied for higher education in Australia from India until March 2022.
Important facts for the competitive exams:
Australia is the only country in the world that covers an entire continent. It is one of the largest countries on Earth.