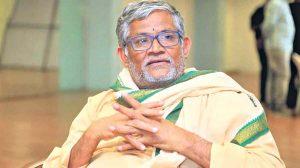 Telugu writer and actor, Tanikella Bharani was presented with the annual Sahitya Puraskar of the Loknayak Foundation (18th Loknayak Foundation Award) at an award ceremony held at Kalabharathi Auditorium, Visakhapatnam, Andhra Pradesh. The Governor of Mizoram, Kambhampati Haribabu, who participated as the Chief Guest, felicitated the award to Tanikella Bharanialong with actor Manchu Mohan Babu and others. Justice Jasti Chelameswar, a retired Judge of the Supreme Court was also present.
Bank Maha Pack includes Live Batches, Test Series, Video Lectures & eBooks
About the Tanikella Bharani:
Tanikella Bharani is an Indian actor, screenwriter, poet, playwright and director who mostly works in Telugu films. He has worked in more than 750 films in Telugu, Tamil, Kannada and Hindi. He has won 3 Andhra Pradesh State Nandi Awards.
About the Award:
The award is popularly referred to as 'Andhra Jnanpith'. It carries a cash prize of Rs 2 lakh.
The award is given annually to an eminent Telugu writer or poet or a person credited with service for the cause of Telugu literature.
Generally, the award is presented on the 18th of January annually to mark the death anniversaries of former Chief Minister(CM) NT Rama Rao(NTR) and writer Harivansh Rai Bachchan. Both the luminaries passed away on January 18th and hence the significance.
Loknayak Foundation award winners are announced on 24th November every year on the birthday of Dr Lakshmi Prasad Yarlagadda.