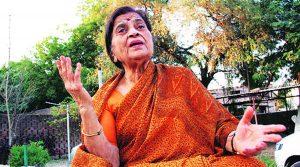 The "Nightingale of Gujarat", Kaumudi Munshi passed away due to COVID-19. During the early stage of her career, Munshi sang mostly in Gujarati, gaining fame with songs like 'Sachi re maari satre bhavani maa'. The singer also sang Bhojpuri songs, for the 1963 movie Bidesiya she sang 'Neek Saiyan bin' with renowned singer Geeta Dutt.
WARRIOR 3.0 | Banking Awareness Batch for SBI, RRB, RBI and IBPS Exams | Bilingual | Live Class
About Kaumudi Munshi
Singer and musician Kaumudi Munshi were born in Varanasi. She completed her education with an arts degree in music from Banaras Hindu University. She trained under the likes of Siddheshwari Devi and Taj Ahmed Khan. After shifting to Mumbai, she got selected in an audition for All India Radio. This is also where she met and later married Ninu Mazumdar, a music director associated with All India Radio.