The Union Road Transport & Highways Minister, Nitin Gadkari, recently announced the approval of seven bridge projects in Arunachal Pradesh. These projects, with a cumulative cost of Rs 118.5 crore, are part of the Setu Bandhan scheme and are aimed at enhancing connectivity and fostering economic development in the state.
Bridge Projects Overview:
1. RCC Bridge Over Pacha River at Lachang:
Location: Laimoya, Nerewa & Sorrowa villages in East Kameng District.
2. RCC Bridge from Goang to Donigaon Village:
Location: Over Pacha river at Goang, on the way to Donigaon in East Kameng District.
3. Three Bridges on NH-313:
Location: Spanning from Roing-Anini road to New Chidu village via NHPC Colony in Lower Dibang District.
4. Double Lane Steel Composite Bridge with RCC Decking at Kharsa, Dirang:
Location: West Kameng District.
5. RCC Bridge at Pikte Point:
Location: Across the river Sigen to connect Tabiripo Saku village on Koyu-Goye road in Lower Siang District.
6. RCC Bridge Over Ngopok River:
Location: Mebo-Dholla road in East Siang District.
7. Steel Composite Bridge Over River Panyor:
Location: To connect Chullyu & Kebi village near Yazali Agri-Farm in Lower Subansiri District.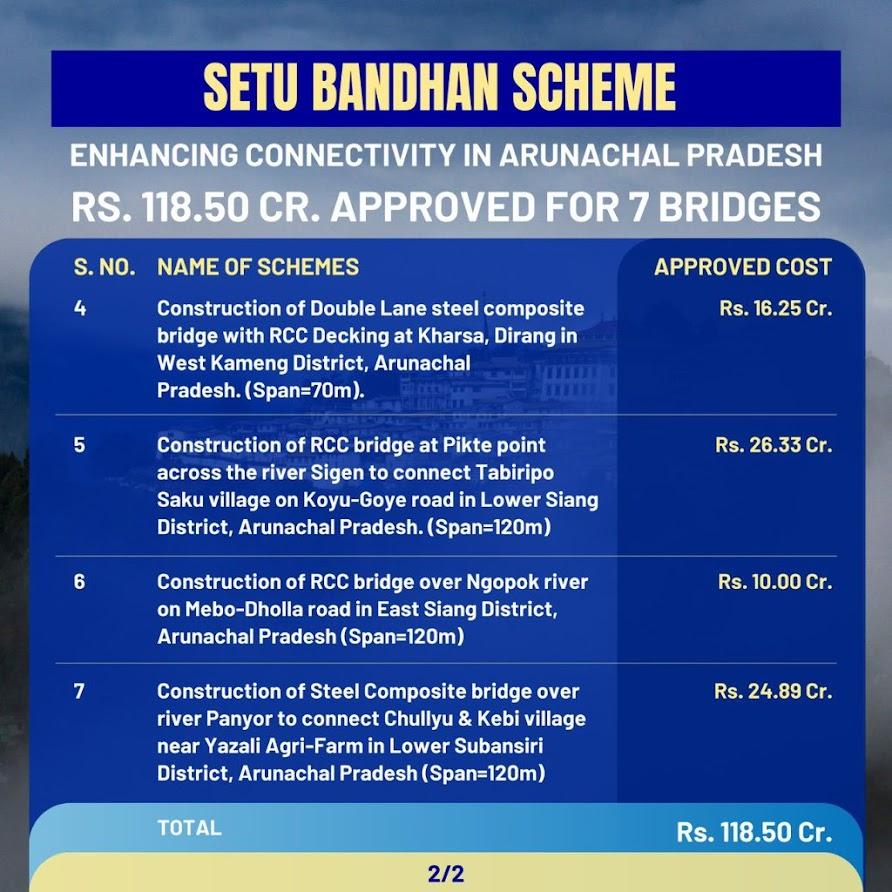 Significance of the Projects:
These bridge projects hold immense significance for Arunachal Pradesh for several reasons:
Enhanced Connectivity: These bridges will significantly improve connectivity within the state, making remote areas more accessible. This will ease the movement of people and goods, ultimately promoting economic development.
Economic Growth: Improved infrastructure is a catalyst for economic growth. With these bridges in place, the transportation of agricultural produce and other goods will become more efficient, benefiting local economies.
Quality of Life Improvement: The projects align with the government's commitment to improving the overall quality of life for the people of Arunachal Pradesh. Enhanced connectivity means better access to healthcare, education, and other essential services.
Chief Minister's Response
Chief Minister Pema Khandu conveyed his satisfaction through a social media post: