The historical use of air power in Mizoram during the 1966 insurgency has recently gained attention due to its mention by Prime Minister Modi in response to a no-confidence motion. This article delves into the events surrounding the Mizoram insurgency of 1966, the government's response, the involvement of the Indian Air Force (IAF), and the aftermath of Operation Jericho.
Mizoram of 1966: A Rising Insurgency: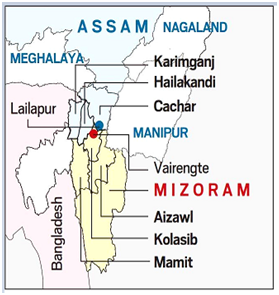 The 1960s witnessed a period of protests and insurgency in the Mizo Hills, now known as Mizoram.
The Mizo National Front (MNF), seeking independence from India, spearheaded a separatist movement.
The central government's decision to station additional Assam Rifles battalions in the region sparked outrage and led to the launch of 'Operation Jericho' by MNF.
Operation Jericho aimed to seize control of Aizawl, resulting in its successful occupation in late February.
Notably, this operation was characterized by meticulous planning and confidence rarely seen in the Indian subcontinent.
Many armed volunteers were ex-servicemen or former Assam Regiment personnel dismissed for disciplinary issues.
The rebels besieged the headquarters of 1 Assam Rifles, released prisoners, looted arms and funds, and declared independence.
Government's Response: Overcoming Resistance:
Brigadier Rustom Zal Kabraji led ground operations to clear rebel-held positions. He commanded the 61 Mountain Brigade based in Agartala.
Despite efforts to resupply the Assam Rifles battalion via helicopters, rebel resistance led to the shooting down of some supply missions.
The ground operations faced formidable opposition, requiring several days to reach Aizawl.
IAF's Role in the Conflict: Air Power Takes Center Stage:
The Indian Air Force (IAF) was called upon as the Army struggled against the rebels.
Initially, the IAF focused on re-supplying army installations using Dakotas and Caribou transport aircraft from Guwahati and Jorhat.
During one such mission, a Dakota aircraft sustained 21 bullet holes but managed to land at Kumbhigram air base near Silchar.
This incident triggered offensive air operations.
The 29 Squadron operated the Toofani (Dassault Ouragan), stationed at Bagdogra, while the 14 Squadron flew Hunters from Jorhat.
Actual air missions commenced on March 5, contributing significantly to regaining control over previously independent territories.
Aftermath and Transformation: From Insurgency to Statehood:
After regaining control through a combination of ground and air operations, Brigadier Kabraji's Brigade restored order in Mizoram.
Mizoram, like other northeastern states, was initially part of Assam.
In 1971, the region was designated a Union Territory (UT) and officially became the UT of Mizoram in 1972.
The Mizoram Peace Accord of 1986, between the government and MNF, paved the way for constitutional changes.
The Indian Parliament's 53rd amendment in 1986 enabled the formation of Mizoram as India's 23rd state.
This marked the transformation of a region once embroiled in insurgency into a peaceful and recognized Indian state.