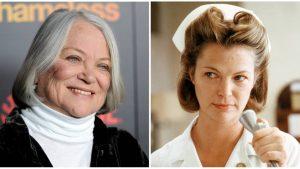 An Oscar-winning actress, Louise Fletcher from the USA has passed away at the age of 88 in France. She was awarded the Oscar in 1976 for her role as Nurse Ratched in One Flew Over the Cuckoo's Nest (1975). She was also a recipient of the BAFTA Award, and a Golden Globe Award. She was nominated for two Emmy Awards for her roles in the television series Picket Fences (1996) and Joan of Arcadia (2004). Her final role was as Rosie in the Netflix series Girlboss (2017).
Bank Maha Pack includes Live Batches, Test Series, Video Lectures & eBooks
Fletcher began her acting career in the late 1950s on episodic TV shows such as Lawman, The Untouchables, and 77 Sunset Strip and lasted for more than sixty years in films and television with a recurring role as the cunning Bajoran religious figure Kai Winn Adami on Star Trek: Deep Space Nine.