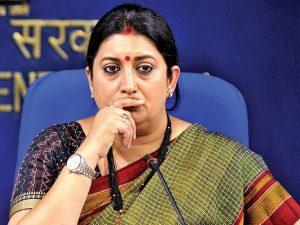 The Union minister for women and child development Smriti Irani launched 3 welfare schemes for women in Goa. The schemes are Yashaswini Scheme for Women Entrepreneurship, Swasthya Sahayak Project and breast cancer screening initiative handheld device facilitating detection of cancer.
Under the Yashaswini Scheme for Women Entrepreneurship, the state government provides interest-free loan up to Rs 5 lakh with a tenure of 5 years to self-help groups with repayment starting from the second year and the loan to be paid in four instalments.
Under the Swasthya Sahayak scheme, a diagnostic kit will be supplied to primary healthcare workers and Anganwadi workers in the state to help them conduct basic diagnostic tests at people's doorstep so as to bring an affordable and convenient solution to the common man, who had to stand in queues and wait for days for getting basic diagnostic tests done. The diagnostic kit has been developed by the Public Health Foundation of India, which has partnered with Procter and Gamble to manufacture and supply the kits using corporate social responsibility (CSR) fund. The Union minister handed over the kit to an Anganwadi worker at the function. The kit includes an interface unit, a tablet and the peripheral bag containing all the equipment needed to perform tests for blood pressure, blood sugar, blood haemoglobin and heart rate.
Under breast cancer screening initiative the handheld devices the Anganwadi and healthcare workers will screen women for breast cancer, reaching out to the women in rural parts of the state. With the help of such a device, the delivery of health services will become more accessible and affordable, he said and added that 20,000 women would be screened for breast cancer.
To mark the launch of the scheme, a cheque for the Rs 5 lakh loan was handed over by Irani to three women's self-help groups – Umang Selfhelp Group, Salcete; Pheonix Women's Self-help Group, Valpoi, and Adarsh Sateri Mahila Mandal, Guleli, Sattari.
Find More Schemes and Committees Here