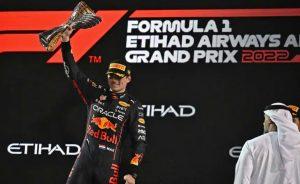 Formula One (F1) world champion Max Verstappen of Red Bull team won the season ending F1 Abu Dhabi race in Abu Dhabi, United Arab Emirates. The battle for second place remained a major story with Charles Leclerc and Sergio Perez entering the race tied at 290 points, but it was Leclerc who came out on top with a second-place finish on the Yas Marina Circuit.
Buy Prime Test Series for all Banking, SSC, Insurance & other exams
Some of his records are as follows:
Max Verstappen was his record 15th title of the 2022 season. He also ended the 2022 season as the world F1 champion. He won his first F1 world championship title in 2021. He also holds the record for winning a maximum 15 races in a single season. He broke the previous record of 13 race victories in a season jointly held by seven-time world champion Michael Schumacher (2004 season) and four-time world champion Sebastian Vettel (2013 season).
Recent Grand Prix 2022 Winner:
Brazilian Grand Prix 2022- George Russell (British)
Mexican Grand Prix 2022 – Max Verstappen (Netherlands)
US Grand Prix 2022 – Max Verstappen (Netherlands)
Japanese Grand Prix 2022- Max Verstappen (Netherlands)
Singapore Grand Prix 2022- Sergio Perez (Mexico)
Canadian Grand Prix 2022 – Max Verstappen (Netherlands)
Azerbaijan Grand Prix 2022 – Max Verstappen (Netherlands)
Miami Grand Prix 2022 – Max Verstappen (Netherlands)
Emilia-Romagna Grand Prix 2022 – Max Verstappen (Netherlands)
Saudi Arabian Grand Prix 2022 – Max Verstappen (Netherlands)
French Grand Prix 2022 – Max Verstappen (Netherlands)
Spanish Grand Prix 2022 – Max Verstappen (Netherlands)
Hungarian Grand Prix 2022 – Max Verstappen (Netherlands)
Belgian Grand Prix 2022 – Max Verstappen (Netherlands)
Dutch Grand Prix 2022 – Max Verstappen (Netherlands)
Italian Grand Prix 2022 – Max Verstappen (Netherlands)
Monaco Grand Prix 2022 -Sergio Pérez (Mexico)
Australian Grand Prix 2022 – Charles Leclerc (Monaco)
Bahrain Grand Prix 2022 – Charles Leclerc (Monaco)
Austrian Grand Prix 2022 – Charles Leclerc (Monaco)