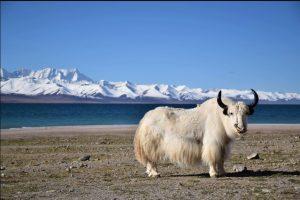 The Himalayan Yak has been approved as a 'food animal' by the Food Safety and Standard Authority of India (FSSAI). The move is expected to help slow the decline of the high-altitude bovine animal population by incorporating it into the conventional milk and meat industries, according to an official at the National Research Centre (NRC) on Yak in Dirang, West Kameng district, Arunachal Pradesh. The 'food animal' tag will become official once it is notified in the gazette following approval by a competent authority.
Buy Prime Test Series for all Banking, SSC, Insurance & other exams
The FSSAI's recognition of the Yak as a food-producing animal will help farmers benefit economically from rearing the animal and will open up several vistas of economic benefits for both farmers and food processors. Traditionally, yaks are reared through a primitive, unorganized, complex transhumance system. It is widely assumed that the FSSAI's declaration of the yak as a food animal will pave the way for its commercial rearing and consumption through the use of the yak-rearing model developed by NRC-Yak.
What is Yak?
YAK is a mountain cow that lives at the world's highest altitudes. YAK originally is from Himalayas of Nepal, Tibet, and Mongolia, and were later brought to the United States, Canada, New Zealand, and parts of Europe. YAKs are animals with bigger lungs and hearts, as well as a better capacity for oxygen delivery through their blood, due to the persistence of hemoglobin throughout life.
In India, Yak is found throughout the Himalayan region — Arunachal Pradesh, Sikkim, North Bengal, Uttarakhand, Himachal Pradesh, Ladakh and Jammu and Kashmir.
Important takeaways for all competitive exams: