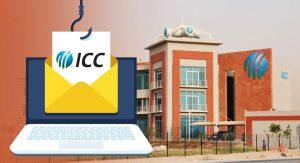 International Cricket Council
The global governing body of cricket, the International Cricket Council (ICC), reportedly lost nearly $2.5 million in online scam last year. The incident of phishing, which originated in the US, took place last year. As per reports, the ICC was repeatedly cheated by the scamster not once, not twice, but four times. Surprisingly, the authorities at the ICC's Dubai office did not have a clue that they were being cheated.
Buy Prime Test Series for all Banking, SSC, Insurance & other exams
Overview of the news
The loss of $2.5 million is significant, as it is equivalent to four times the grant an Associate member with ODI status earns every year from the ICC. An ICC associate nation earns $500,000 to $1 million per year from ICC grants.
As per the report, the ICC is conducting a probe about the incident and has reported it to law enforcement agencies in the US.
However, the exact manner in which the scam took place is not yet known.
It is reported that the scamster from the US acted as a vendor of the ICC and emailed the cricket body's CFO for a payment from an email id that was apparently similar to the ICC.
What is Phishing?
Phishing is an attempt by cybercriminals posing as legitimate institutions, usually via email, to obtain sensitive information from targeted individuals. This is one of the most common scams happening around the world. Phishing attacks have become increasingly sophisticated and often transparently mirror the site being targeted, allowing the attacker to observe everything while the victim is navigating the site, and transverse any additional security boundaries with the victim.  The term "phishing" was first recorded in 1995 in the cracking toolkit AOHell, but may have been used earlier in the hacker magazine 2600. It is a variation of fishing and refers to the use of lures to "fish" for sensitive information.
Important takeaways for all competitive exams: 
ICC Founded: 

15 June 1909;

ICC Chairman: 

Greg Barclay;

ICC CEO: 

Geoff Allardice;

ICC Headquarters: 

Dubai, United Arab Emirates.
You may also read this: