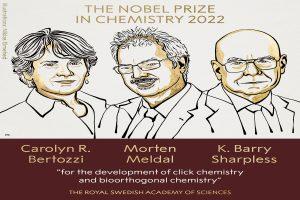 The Nobel Prize in Chemistry 2022 was awarded jointly to Carolyn R. Bertozzi, Morten Meldal and K. Barry Sharpless "for the development of click chemistry and bioorthogonal chemistry" at the Royal Swedish Academy of Sciences in Stockholm. The three have been awarded for their work in 'click chemistry', in which molecules snap together fast and firmly, without the need for a long, complicated process and too many unwanted byproducts. Their work has applications in the field of medical science, including the treatment of cancer. Bertozzi is based at Stanford University in California, Sharpless with Scripps Research, California, and Meldal is at the University of Copenhagen, Denmark.
Notably: The Nobel prizes carry a cash award of 10 million Swedish kronor (nearly $900,000) and will be handed out on December 10.
Bank Maha Pack includes Live Batches, Test Series, Video Lectures & eBooks
Nobel Prize 2022 Winners list: Complete List of Noble Prize Winners Names of 2022
Here is what Sharpless, Meldal, and Bertozzi worked on, and the significance of their research:
Barry Sharpless and Morten Meldal are awarded the Nobel Prize in Chemistry 2022 because they brought chemistry into the era of functionalism and laid the foundations of click chemistry. They share the prize with Carolyn Bertozzi, who took click chemistry to a new dimension and began using it to map cells. Her bioorthogonal reactions are now contributing to more targeted cancer treatments, among many other applications.
To simplify, Sharpless came up with the term 'click chemistry' and worked extensively on it, Meldal, independently of Sharpless, came up with a special chemical structure called 'triazole' which has many significant applications, and Bertozzi took the next step of developing click reactions that could work inside living organisms — 'bioorthogonal' reactions (a term she coined), take place living systems without interfering with native biochemical processes.
What is click chemistry?
Click chemistry and bioorthogonal reactions have taken chemistry into the era of functionalism. This is bringing the greatest benefit to humankind. Chemists often try to recreate complex chemical molecules found in nature, and this has applications, among other things, in the field of medicine – how to target and block pathogens in cells. However, this process can be complicated and time-consuming.
About the Carolyn R. Bertozzi:
Carolyn R. Bertozzi, born 1966 in USA. PhD 1993 from UC Berkeley, CA, USA. Anne T. and Robert M. Bass Professor at Stanford University, CA, USA.
About the Morten Meldal:
Morten Meldal, born 1954 in Denmark. PhD 1986 from Technical University of Denmark, Lyngby, Denmark. Professor at the University of Copenhagen, Denmark.
About the K. Barry Sharpless:
K. Barry Sharpless, was born in 1941 in Philadelphia, PA, USA. PhD 1968 from Stanford University, CA, USA. W. M. Keck Professor at Scripps Research, La Jolla, CA, USA.