Indonesia issued a tsunami warning for almost three hours after a powerful 7.6 magnitude earthquake struck off Indonesia's Tanimbar islands on Tuesday, but no significant changes in sea level were recorded and the warning was lifted. At least four aftershocks were reported after the quake that was also felt in some parts of northern Australia, with initial reports by Indonesia's disaster agency indicating mainly light to medium damage to buildings.
Buy Prime Test Series for all Banking, SSC, Insurance & other exams
The quake, locally measured as magnitude 7.5, struck at a depth of 130 km (80.78 miles) at 2:47 a.m. local time (1747 GMT on Monday), the country's geophysics agency BMKG said. The tsunami warning was lifted at 5:43 a.m.
The European Mediterranean Seismological Centre (EMSC) recorded the magnitude of the quake as 7.6, after initially reporting it as 7.7. The U.S. Geological Survey also pegged it as a 7.6 magnitude. There were four aftershocks with the strongest recorded at 5.5 magnitude, BMKG said.
What happened?
The powerful quake led to a tsunami warning, causing residents of Tanimbar – a group of 30 islands in eastern Indonesia's Maluku province – to flee their homes. The warning, however, was lifted three hours later. Initial reports suggested limited damage, according to Reuters.
Why Indonesia?
Indonesia experiences frequent seismic activity due to its position on the Pacific "Ring of Fire," where tectonic plates collide. Last November, a 5.6-magnitude earthquake struck Indonesia's most populated province, West Java, killing hundreds of people.
About Ring of Fire:-
The Ring of Fire, also referred to as the Circum-Pacific Belt, is a path along the Pacific Ocean characterized by active volcanoes and frequent earthquakes.

It is largely a result of Plate Tectonics where massive Pacific Plate interacts with less-dense plates surrounding it.

The majority of Earth's volcanic eruptions and earthquakes take place along the Ring of Fire.

The next most seismically active region (5-6% of earthquakes) is the Alpide belt (extends from Mediterranean region, eastward through Turkey, Iran, and northern India.
Geographical Stretch of Ring of Fire
The Ring of Fire is stretched to approximately 40,000 kilometers (24,900 miles) tracing boundaries between several tectonic plates including the Pacific, Juan de Fuca, Cocos, Indian-Australian, Nazca, North American, and Philippine Plates.
The chain runs up along the western coast of South and North America, crosses over the Aleutian Islands in Alaska, runs down the eastern coast of Asia past New Zealand and into the northern coast of Antarctica.
Bolivia, Chile, Ecuador, Peru, Costa Rica, Guatemala, Mexico, United States, Canada, Russia, Japan, Philippines, Australia, Papua New Guinea, Indonesia, New Zealand, and Antarctica are some of the important places located in the ring of the fire.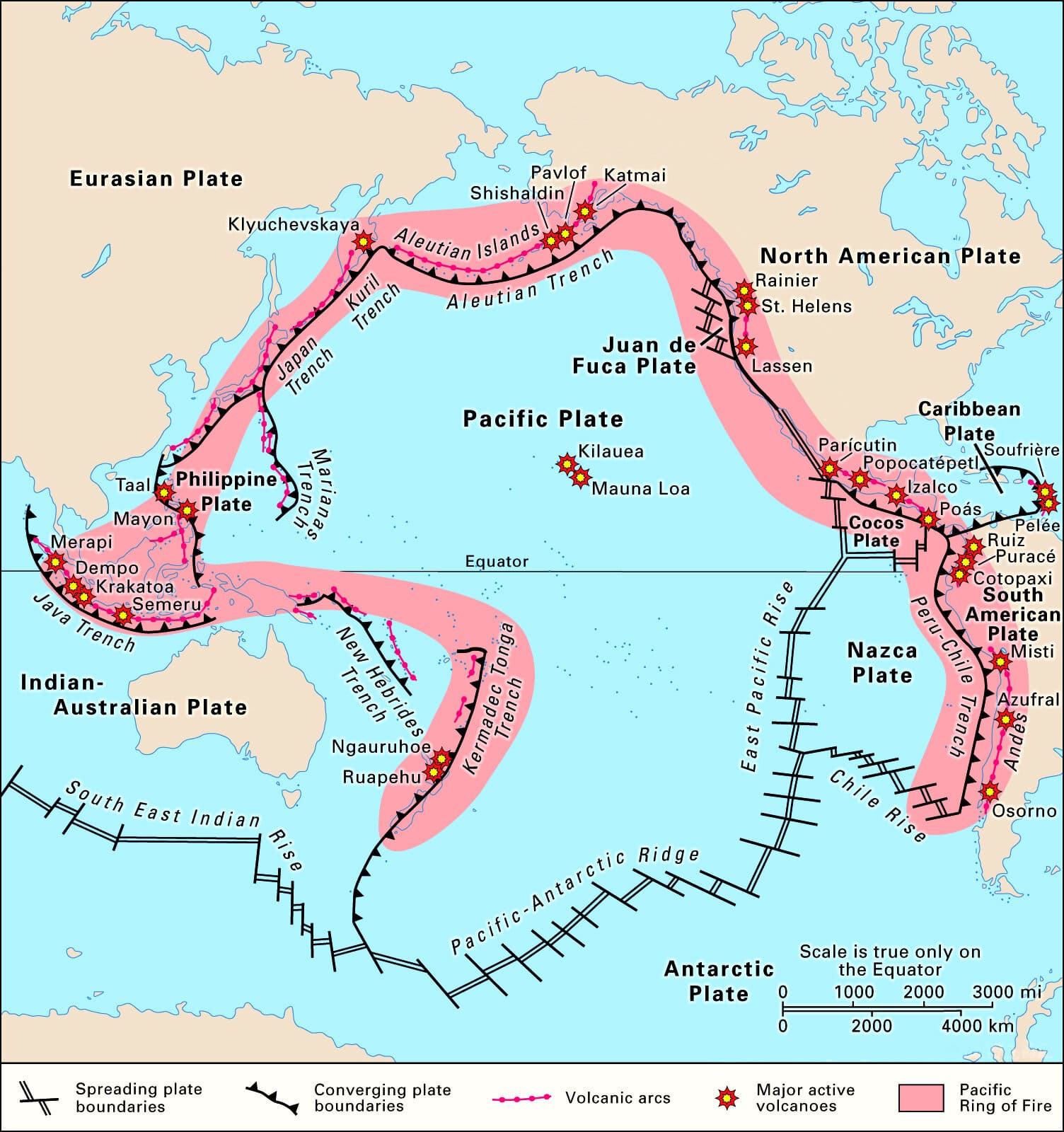 About Indonesia:-
Indonesia, is a transcontinental country spanning Southeast Asia and Oceania between the Indian and Pacific oceans. It consists of over 17,000 islands, including Sumatra, Java, Sulawesi, and parts of Borneo and New Guinea. Indonesia is the world's largest archipelagic state . Java, the world's most populous island, is home to more than half of the country's population.
You may also read:-
Find More International News Here